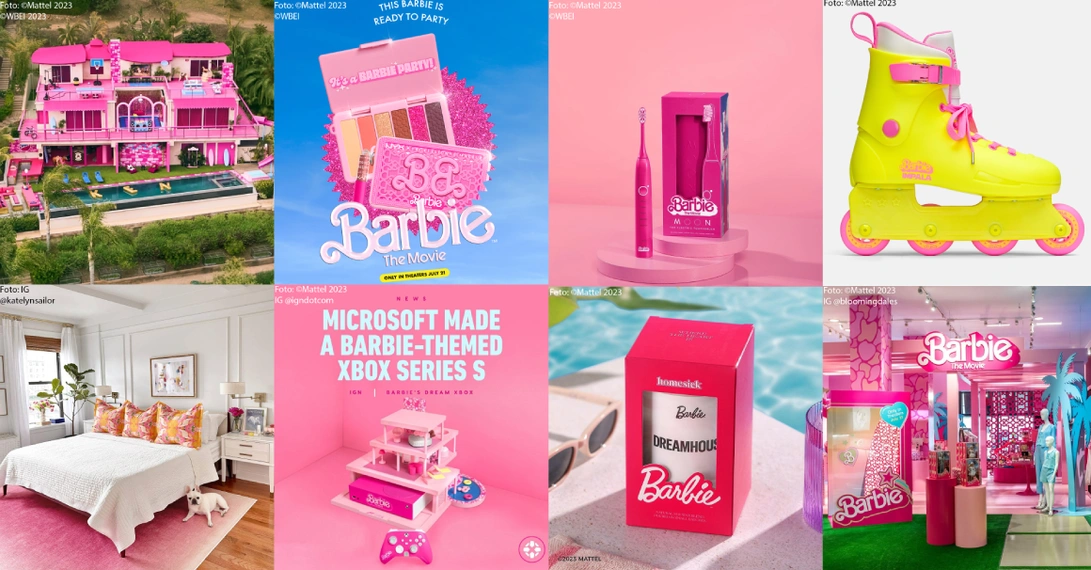 The Barbie movie is headline news everywhere at the moment—much to the delight of Mattel and Warner Bros., who invested huge sums to promote the flick. Campaigns with partners are forecasted to generate tons of sales of Barbie-themed roller skates, travel suitcases, game consoles, toothbrushes and even insurance policies. OMR shows the most curious examples and the effects of this strategy.
There has been a glut of product films in 2023. "Air: The Big One" Nike's Air Jordan sneakers,  "BlackBerry," about the first smartphone to "Flamin' Hot" about Flamin' Hot Cheetos have each served to emotionalize the story of how a product came into being.
This Barbie is a…
And now Barbie. Towards the end of production, leaked set photos gained traction. In early 2022, mass memes and tweets of Margot Robbie as Barbie and Ryan Gosling as Ken surfaced. The trailer in late 2022 further fueled attention. In April 2023, Mattel dropped a Barbie selfie generator that quickly went viral. "Barbiecore," the fashion trend centered around the color pink, quickly reached the fashion world—with people of prominence populating galas and parties in pink dresses. This was also the case at the German premiere of Barbie in mid-July, which was attended by numerous celebrities.
Co-ops as marketing boosters
An even bigger marketing boost for Mattel and Warner Bros. are likely to be the numerous collaborations with other brands. Not an entirely new phenomenon, as our "State of the German Internet" keynote from 2019 pointed out. Still, the enormous number of collaborations Mattel has entered into with Barbie is remarkable. According to Lisa McKnight, executive VP and global head of Barbie at Mattel, the company has signed licensing deals with more than a hundred companies.
Fans can drink Barbie lemonade, eat Barbie burgers with pink sauce and Barbie ice cream, or dress in Barbie clothes from Gap, Zara, Aldo, Forever21, Primark, Crocs, etc. There are Barbie toothbrushes, candles, cosmetics and suitcases. And it pays off for Mattel: According to glossy.co, Mattel gets a 5-15 percent cut of product sales or a flat royalty for partner companies to use the Barbie name or logo.
The Barbie dreamhouse
Perhaps the most attention-grabbing collaboration is between Mattel and Airbnb. Guests can rent the Malibu Dreamhouse via Airbnb. The tweet from John Schreiber, photojournalist at CBS Los Angeles, on the Malibu DreamHouse alone was viewed 3.5 million times. An official tweet from Airbnb generated nearly 1 million views. On Airbnb's Instagram account, the post about the Malibu Dreamhouse also received 117,000 likes and more than 2,000 comments. This makes this post one of the most successful posts on the channel. Other curious collaborations include those with Impala Skates (roller skates), with Beís (suitcases) with Microsoft xBox, with Moon (toothbrushes) or with Progressive Insurance (an insurance company).
Some of the Barbie co-ops
Fashion 

Cosmetics

Interior

Food & Beverage

Other

ZARA

NYC Cosmetics

Ruggable Collection

Burger King

Malibu Dreamhouse

Boss Beauties

Glamlite

Homesick Candles

Swoon Limonade

Barbie Dream Car toy

Aldo 

MAC

Dragon Glassware

Pinkberry ice cream

Progressive Insurance

Forever21

Hally Hair

xBox

Impala Skates

Kitsch

Béis

Funboy Swim Collection

OPI

Forza Horizon 5

GAP

Crocs

Bloomingdale's

Balmain fashion

Primark

Hot Topic

MeUndies

Alamo Drafthouse Collection

Superga
(*List may not be complete) 
48 billion views on TikTok
Overall, Mattel has generated a tremendous amount of attention – in newspapers and magazines, in TV and radio ads, in podcasts or on social media. According to digiday.com, the number of Barbie mentions on TikTok increased 191 percent last year. Overall, the Barbie hashtag has received 48 billion views on TikTok; more than half of those in the past twelve months.
In the first half of this year, #Barbie was used 145 percent more often on TikTok, YouTube and Instagram than in all of last year. On Instagram, Barbie has 2.8 million followers. On Pinterest, searches for the term "Barbiecore" increased 980 percent between May 2022 and May 2023.
Business is booming
Just one week after its theatrical release, the Barbie film, it can be said, is a hit. Its opening weekend take outpaced expectations by grossing USD 155m, besting the year's previous top draw the Super Mario Bros. movie. That number is significant as production costs now figure to be covered, which according to the New York Times amounted to USD 145m. The collaborations also have the potential to further boost Mattel's business. From 2017 to 2019, Mattel was still in the red – partly caused by the bankruptcy of Toys "R "us. But in 2021, the company recovered.
The Mattel Universe
Ynon Kreiz (formerly head of YouTube network Maker Studios) took over as CEO at Mattel in 2018, changing the company's strategy as well. He told TIME Magazine, "Marvel is a very good analogy that is directionally what we believe we can achieve in terms of the strength, appeal and built-in fan base of our franchises." Mattel's investment in IP licensing agreements helped the company increase sales by 20 percent in the second quarter of last year, according to modernretail.co.
The company's long-term goal is to create a "Mattel Universe" modeled after the Marvel Universe, which has spawned dozens of successful movies featuring comic book characters for Disney. In addition to Barbie, there are plans for 14 other films, video games and even a Mattel amusement park, which is currently being built in Arizona.