He's the go-to for those in the know—Ben Thompson: Live at OMR FESTIVAL 2017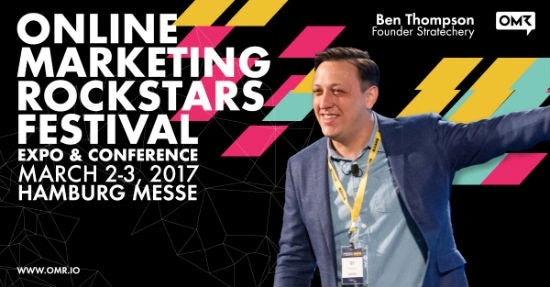 Thompson is the creator and brains behind Stratechery, the US-based tech blog generating $200K in annual revenue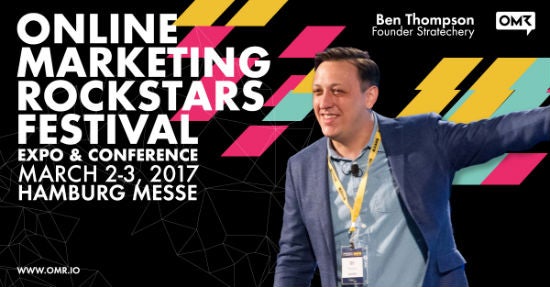 About three years ago, Thompson, then an unknown former analyst at Apple and Microsoft, founded his tech blog stratechery.com to little fanfare. Today, his subscription model nets him $200K in annual revenue. His in-depth analysis are read by CEOs and VCs from around the world. His subscribers include the top of the top in the tech scene, such as Jonah Peretti (CEO Buzzfeed), Jeff Weiner (CEO Linkedin) and Drew Houston (CEO Dropbox).

In just a span of two years, Ben was able to become one the industry's most influential voices. Ben will share his story on stage in front of 25K spectators at OMR Festival 2017. OMR Festival is Europe's largest digital marketing event taking place over two days in Hamburg, Germany. In 2017, OMR Festival is set to draw 25K visitors and peak industry speakers such as marketing tour-de-force Gary Vaynerchuk, Facebook's VP of advertising Andrew Bosworth and Iron Maiden lead singer Bruce Dickinson.
His list of nearly 50K Twitter followers reads like a who's who of the tech and VC industry. In addition to the above-mentioned headliners, his followers include Techcrunch founder Mike Arrington, Ex-Mondelez marketing head Bonin Bough, Growth Hacker Andrew Chen (Uber) and Bill Gurley, one of the world's most famous VCs and a partner at Benchmark.
Don't miss this rare speaking appearance in Europe. Join Ben and get your ticket for OMR Festival 2017.
An Empire Built on a Newsletter
Thompson only publishes a handful of articles a week on stratechery.com, which are available free of charge. His latest article, entitled "Apple should buy Netflix" is a prime example of the high-quality analysis that blog subscribers can expect. His "Daily Update," consisting of in-depth analysis on current topics, costs ten dollars a month or 100 a year. "Daily Update" also includes access to a member forum and in-person meetups.

Word spread fast that Ben is peerless when it comes to analytical acumen on industry topics and an ability to recognize correlations. It took him roughly six months after launching stratechery.com to amass 1000 subscribers and generate $100K. By early 2015, he had 2000 subscribers and 200K in the bank. Today those numbers figure to have grown considerably.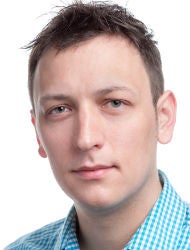 Paid subscribers are by far the largest source of revenue for Thompson, while the rest is generated primarily through speaking engagements. He refuses to use banners on his site. When asked how he was able to convince thousands of people to pay for his services in a short amount of time, he said in a recent Panoply Media Podcast with Ezra Klein: "It sounds simple, but you have just to produce stuff that is really good." For him, the most important article that a user reads on his site is the second. That's why it's imperative that his analysis is always on point. Quantity is secondary.
Ben shares his insight at OMR FESTIVAL 2017
At OMR Festival 2017, Ben will take the stage and tell us how he became one of the most sought-after tech analysts in the world, share some tricks on creating reach. If we are lucky, he'll delight us with one of his in-demand analysis on current events in the marketing industry. Don't miss your chance to see Ben live and in person.