Breakfast cereal shakeup: How young cereal startups are turning to celebrities, pods and protein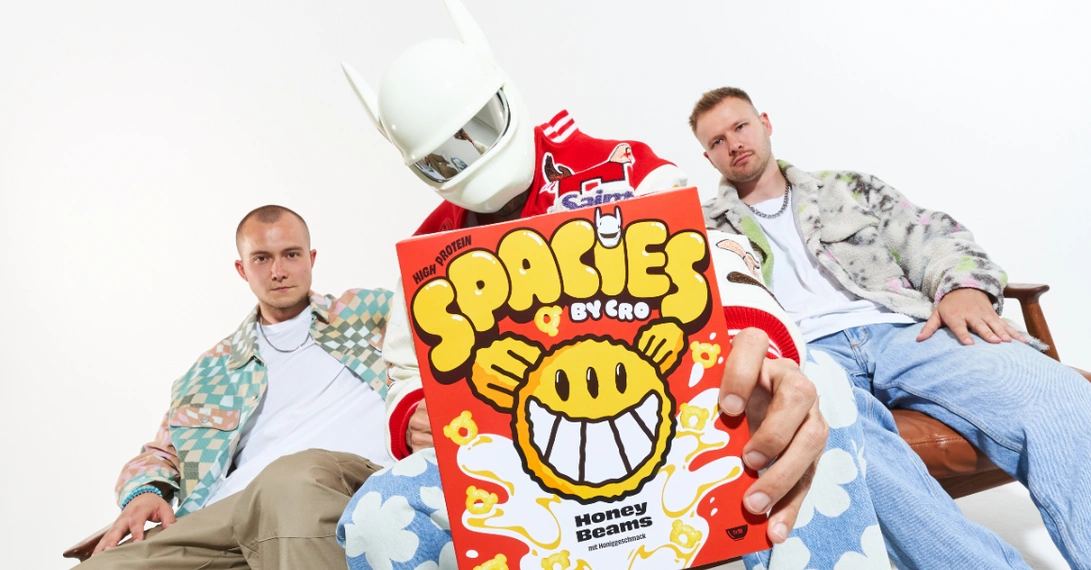 Magic Spoon, Crispy Fantasy and Spacies: A whole series of young startups are currently taking aim at incumbents on the breakfast cereal market. With products purported to be healthier than the sugary fare produced by industry giants, the founders behind them want to be more agile and tap into new ways of marketing. OMR explains their strategies and spoke with two cereal entrepreneurs.
If you grew up with Saturday morning cartoons in the 80s and 90s, you know the names: Tony the Tiger, who "They'rrrrre Great!," Capt'n Crunch," or the Lucky Charms leprechaun. They were the brand faces of breakfast cereals that reached its audience with those enduring TV spots.
Today, kids tune in to YouTube, Tiktok and Twitch. And young consumers, or their parents, have become more demanding when it comes to ingredients. Today's products should be as low in sugar as possible, or even sugar-free, vegan, keto-friendly, gluten-free or even high in protein. However, many of the big players such as Kellogg's, Nestlé or General Mills have largely ignored this trend. The founders of U.S. startup Magic Spoon took note of that fact when they were strolling down the cereal aisle at their local supermarket. "It looked the same to us as it did a decade prior," co-founder Gabi Lewis tells The Information. "We realized this is an enormous category where nobody is truly doing something innovative."
Brands galore
Magic Spoon is currently leading the pack of young cereal startups, but the pioneer for the segment is Catalina Crunch. Founded in 2017, Catalina Crunch positions its cereal as "keto friendly" and "sugar-free." The company has raised USD 9.2m in total funding to date, according to Crunchbase.
Magic Spoon figures to have surpassed Catalina Crunch by last year at the latest. The company raised USD 85m in a Series B financing with Highpost Capital, the private equity firm of Mark Bezos, the half-brother of Amazon founder Jeff Bezos, leading the round of funding. According to Crunchbase, Magic Spoon has raised a total of around USD 121m with prominent investors including Shakira, Nas, NFL star Odell Beckham Jr., NBA star Russell Westbrook and comedian Amy Schumer.
For its marketing, Magic Spoon focuses primarily on digital channels. The startup began with social ads and influencer marketing, as Gabi Lewis broke down in the Growth Session podcast. The second stage of expansion consisted of product collaborations with major influencers. For example, Magic Spoon launched a new, limited-edition variety with the "Sway House," a community of high-reach Tiktok creators. According to Lewis, Magic Spoon then took another step in its growth by entering the podcast advertising business. The startup focuses primarily on podcasts whose hosts are themselves influencers, i.e. your Tim Ferriss's, and Joe Rogans of the world. 
Magic Spoon on shelves near you
In the meantime, the startup's boxes are not only available via its own online store, but have also been on shelves at retail and supermarket chain Target since 2022, while Walmart and Kroger began carrying them this year. According to one report, Magic Spoon set its sights on reaching one million customers by August 2022; company figures about the startup's sales and profits is not publicly available. In any case, the market is massive. Global sales in the market for breakfast cereals, muesli and granola will total around EUR 72.29b in 2023 and are expected to grow to EUR 99.26b by 2028.
Others are now looking to secure a piece of this pie. In the UK, for example, Crispy Fantasy (2021) and Surreal Cereal (2022) are following in Magic Spoon's footsteps, while in Germany it's Wholey (2017) and Spacies (2019). The founders of Spacies were directly inspired by Magic Spoon: "Many food trends start first in the U.S. and we were sure that the product could also work for the German market," says founder Carsten Hinzer.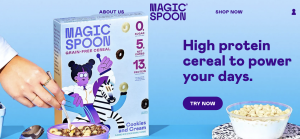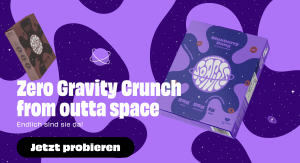 Magic Spoon (left) and Spacies (right)
In September 2021, Hinzer and his childhood friend Rouven Kosel founded the company, and had German incubator Crealize as their first investor and sparring partner. The food startup has set its sights on shaking up the German breakfast industry with cereals offering 96 percent less sugar, 28 percent fewer carbohydrates and four times more protein than conventional cereals.
The US playbook a la Fatherland
Spacies has also recently started working with celebrities in the hopes of boosting its visibility. For starters, Spacies has struck barter deals with local influencers, in addition to providing direct compensation for their plugs.
Furthermore, and more consequential, Spacies has partnered with German rapper Cro, who is also on board as an investor in Spacies. Side note: it was Cro who originally reached out to Spacies. Spacies has also brought other business angels on board, including the founders of the energy drink "HOLY," the real estate investors and developers Albeck & Schache Investments and the venture capital investment company NowHatch Ventures. 
The Creator Economy
Whether it's iced tea from fellow German rapper Capital Bra, protein bars from influencer Pamela Reif or, more recently, an energy drink from streamer MontanaBlack, they all have in common is they are widespread products that have been conceived, developed and brought to market by creators and celebrities. Creators are becoming entrepreneurs, companies and brands. The co-op with Cro, who is marketing his own two products "Spacies by Cro," is the latest example. In doing so, he is following a trend from the U.S., where American rappers such as Snoop Dogg and Travis Scott have long had their own cereal brands. 
This shows that the value chain has changed radically, as has the marketing that was done 20 years ago. In the past, TV commercials were placed and products were sold in grocery stores in order to reach future customers. Today, they rely on D2C – social media and their own online stores. Spacies currently has more than 20 social ads running on Meta. According to its own information, Spacies currently has around 22,000 customers with sales in the six-figure range. 
Spacies uses sweepstakes and social ads to attract new customers.
Ad messaging criticized
Even if there is a legitimate niche in the cereals market and innovative ideas meet with a positive response, there are also critics. Spacies' product, for example, is sugar-free and high in protein, but contains sweeteners that can have a laxative effect if consumed in large quantities. According to the consumer advice center in Hamburg, there is no significant benefit in using sweeteners instead of sugar. They say that it is better to eat sugar in moderation than to switch to sweeteners, as they have their pitfalls," says Armin Valet of the consumer advice center, alluding to the recently published WHO study according to which some sweeteners are said to be carcinogenic. Another topic is dietary fiber. "For a good, healthy cereal, you need fiber." Those are lacking in Spacies products, which use mostly rice flour. "But cereals should contain whole grains," Valet adds.
What's next?
Like its role model Magic Spoon, Spacies also wants to enter the retail market. This step could take place this year. "In the long term, we want to reach the mass market in Germany and Europe," Spacies co-founder Rouven says. The summer tour with Cro could also provide a boost. The kick-off with Spacies on board was on July 8 at the Open Air Tour in Berlin. Further appearances are planned in other German cities this summer. Another offline event is still being planned, and when asked if they have been on the German version of Shark Tank, Hinzer declined to provide a statement.