Day 1 on the Deep Dive Stage: from Amazon Hack's to Facebook Groups and WeChat Marketing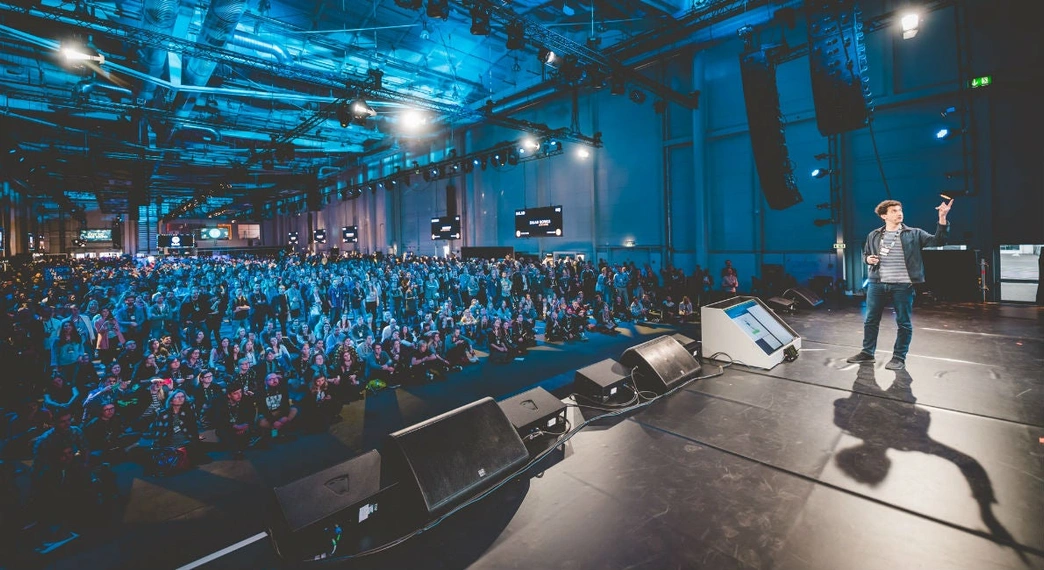 Pablo Rochat speaking on the Expo Deep Dive Stage at OMR18 (Image: OMR / Julian Huke)
There's not a marketer on the planet who couldn't use some tips and tricks here and there to fine tune and improve their marketing. Helping you get a greater return on your marketing dollar is our goal once again on the Expo Deep Dive Stage at OMR19. Over two days, our expert presenters are set to deliver non-stop insights and strategies you can use. Today, we're focussing on Day 1 on the Expo Deep Dive Stage.

The Expo Deep Dive Stage is one of the stages at OMR19, whose content is included in the less-expensive Expo Ticket. The stage is basically hosting round-the-clock content on May 7 & 8. For a detailed schedule, the best place to go is our Big Timetable. Here you can not only get an idea of what's on and where, but also mark your favorites so that you won't miss a thing. Maybe Masterclasses are more your thing: check them out here—and don't forget about our Guided Tours on offer. But I digress—back to the Deep Dive Stage lineup on May 7:
10:15 AM to 10:35 AM: Amazon Pro Hacks
Amazon is THE marketplace in Germany. According to estimates by PricewaterhouseCoopers, 94 percent of German consumers are Amazon customers and 45% of them begin their product search right on the platform. Annemarie Schuster advanced to one of the largest crafts accessories sellers on the platform in just a few years and is now among the top experts in marketplace optimization. At OMR19, she will discuss tips, tricks and tool to improve your position on the platform despite increasing competition among private labels.
Speaker: Annemarie Raluca Schuster, CEO/Founder, SiAura Material / Annythinks 
10:40 AM to 11:00 AM: How to use Facebook Groups as a Powerful Community Building Tool
Sara Urbainczyk is one of the three founders of "Echte Mamas" (engl: Real Moms). Together with Marion Scheithauer and Miriam Wiederer she has built up the biggest German social community for mothers. Thanks primarily to clever community building with the aide of Facebook groups, the three Hamburg ladies were able to amass an incredible amount of reach. On the Expo Deep Dive Stage, Sarah will go into detail on how you can effectively use Facebook groups for community building.
Speaker: Co-Founder & CEO, Echte Mamas GmbH
11:00 AM to 11:30 AM: Rock your Retail Business with Google
The retail ecosystem has changed drastically – and will continue to do so. New players, evolving business models, the latest technologies, and increasing customer expectations have transformed the way today's retailers need to act. Together with our Google Retail team on stage, explore how retailers, both small and large, have partnered with Google to ensure success within the new realities of retail.
Speakers: John Gerosa, Managing Director, Retail Markets, Google

Birgit Pahl, Industry Head Retail Google

Maike Schnell, Industry Leader Retail Google
11:30 AM to 11:50 AM: When influencers take over the McDonald's test kitchen
When the Lochis, together with their followers and fans, had the chance to develop their own ice cream flavor, it wasn't just millions of teens that shared the ad—but rather led to one of the fastest sellouts in the history of the company. On the Expo Deep Dive Stage, the people behind the #EISGÖNNEN campaign will discuss the opportunities and challenges presented when melding marketing with product development and will shed light on what happens when influencers, like the Lochis, take over the McDonalds test kitchen.
Speaker: Oliver Stroh, CEO OMD Germany, Omnicom Media Group Germany GmbH

Fabian Nöthe, Managing Partner FUSE
11:55 AM to 12:15 PM: Disrupt yourself! How to prepare your company for the future?
Technology and social changes influence the rules of the game and create continuous challenges for companies—especially for the "grown-ups" among them. Start-ups provide excellent examples of the skills and characteristics needed to compete in an ever-changing market. But what exactly is required to implement a successful change process within an established company? Alexandra Barth has initiated many change processes and will present five theses on how each company has the opportunity to change itself to create an agile corporate culture.
Speaker: Alexandra Barth, CMO, HRS Group
12:20 PM to 12:40 PM: Entertain first. Sell Second: Why digital publishers are the better content marketers
Insider Studios and Axel Springer Brand Studio, the branded content studios at their respective parent companies Insider Inc. & Axel Springer, jointly elaborate on five theses regarding the current status quo, challenges and future trends within content marketing. Backed by real case studies and examples of their work from the US and German markets, they'll address specific topics on the Expo Deep Dive Stage such as: – How quality content can be seen as a key data generator; – Why audience behavior will become more important than demographics; – What role do influencer marketing and creator partnerships play; – Brands devoting more resources to taking content in-house.
Speakers: Alexander Franke, Director Content Marketing and Creativity, Axel Springer SE

Patricia Chui, Executive Director of Content Strategy & Analytics, Insider Studios

Karsten Günther, Senior Manager Business Development & Innovation, Axel Springer SE

Yvonne Beister, Head of Axel Springer Brand Studio, BILD Editorial, Axel Springer SE
12:45 PM to 1:05 PM: Marketing in the Age of Rage – Philipp Westermeyer interviews Marian Salzman
Tobacco company Philip Morris is in the process of transformation, working hard on creating a smoke-free future by producing better alternatives, like IQOS. With its current "Unsmoke" campaign, Philip Morris is seeking to initiate a global conversation. But how can that ever work in a polarized debate climate more akin to a viper pit than well-intended discourse? These topics and more will be addressed by PR pioneer Marian Salzman in an exclusive on-stage interview with OMR founder Philipp Westermeyer. Furthermore, she will explain why PR is in need of an overhaul, how companies can become part of the story and how Philip Morris intends to turn provocative attention-generating campaigns into a net plus for the company..
Speakers: Marian Salzman, Senior Vice President Global Communications, Philip Morris International

Philipp Westermeyer, Co-Founder, OMR
1:10 PM to 1:30 PM: 9 relationship tips for brands
Soheil Dastyari, the brains behind Hamburg-based communication agency Territory, will speak about how people and brands need to communicate with each other moving forward.
Speaker: Soheil Dastyari, CEO, Territory
1:35 PM to 1:55 PM: Go East – The Alibaba Ecosystem as Gateway to China for European brands

Chinese consumers are different from their German counterpart. They are younger, "mobile only", more demanding when it comes to speed and quality of service – and, having more and more disposable income available, they want to upgrade their quality of life. Alibaba Group's B2C e-commerce platforms Tmall and Tmall Global can help European brands cater to the fast-growing Chinese market— by leveraging innovative technologies and what Alibaba calls "New Retail."
Speakers: Karl Wehner, Managing Director Germany, Austria, Switzerland, Turkey and Eastern Europe, Alibaba
2:00 PM to 2:45 PM: Leverage Machine Learning for Business Growth with Google
Today's consumers are increasingly curious, impatient, and demanding – and have heightened expectations about service. In order to meet these expectations, Google is incorporating machine learning (ML) across our wide range of products. Leveraging ML-powered solutions for growth has become more important than ever. Gain some insights into how Google's automation solutions can work for you, and how machine learning can increase your search campaign effectiveness and efficiency. You will also hear from advertisers and agencies on how they have used ML-powered automation solutions to unlock their potential.
Speakers: Jannika Bock, Director Client Solutions Central Europe Google

Dominik Wöber, Head of Mobile & Display Solutions CEE Google

Melania van Hümmel, Industry Leader Agency Google

Yves Brunschwiler, Sales Manager Google

Sebastian Reischl, Manager of Strategy and Marketing Blue Summit
2:50 PM to 3:10 PM: How to use WeChat as a marketing and payment tool for Chinese customers

China has become a cashless country with no distinction between online and offline tools — and that impacts people's everyday lives in China and while traveling abroad. At the center of this unique digital ecosystem sit Tencent and its super app WeChat. It is a perfect tool for brand owners and retailers to reach Chinese consumers shopping for European quality brands and products as well as the Chinese middle class and affluent individual travelers coming to Europe.
Speaker: Enrico Plateo, Manager Europe Tencent
3:15 PM to 3:35 PM: Twitch – A TV Replacement?
Live Streaming has come to stay. 77 percent of German Internet users, aged 14 and over, watch films, TV programs or other videos as streams on the Internet. Gaming and esports have long since arrived in the middle of society. But what significance does this have for brands? How has the platform Twitch stolen hours of the day from millennial males to consume content on?
Speakers: Sumi Chumpuree-Reyntjes, Sales Director DACH Twitch

Burkhard Leimbrock, Commercial Director Europe Twitch
3:40 to 4:00 Stores as a marketing channel – building a brand together with offline retail partners
How do you sell something that nearly everyone needs, but nobody really wants? That's the challenge that faced the founders of Invisibobble. With their spiral hair tie, they have a real product innovation at hand—but how do you build a real brand with a low-priced consumer good? In her presentation, co-founder Sophie Trelles will explain how her company made a name for itself through retail partnerships, PoS and digital marketing and clever segmentation.
Speaker: Sophie Trelles-Tvede, Inventor & Founder Invisibobble
4:05 PM to 4:25 PM: The Movers and Shakers of the New Media Age
Joko Winterscheidt and Fynn Kliemann have taken different paths to fame in Germany. One took the traditional media route to stardom, the other took to Youtube. One thing they both have in common is that neither is dependent on a single medium and have both created very successful personal brands. They reach their fans across a slew of platforms and give every project they're involved in added attention through their sheer presence alone. At OMR19, the pair will discuss how media, publicity, celebrity and marketing works today and how they got to where they are today.
Speaker: Fynn Kliemann, Youtuber and Jack-of-all-Trades

Joko Winterscheidt
4:30 PM to 4:50 PM: 10,000 clients through YouTube—How storytelling transformed a lawyer into a YouTube social media star
With over 330,000 fans and almost 60 million video views, Cologne attorney Christian Solmecke has one of the most-successful jurisprudence channels in Europe. The IT and media law practice leveraged his YouTube presence to acquire tens of thousands of new clients, while also turning his work on YouTube, Facebook and Twitter into 400+ TV appearances. At OMR19, Solmecke will discuss which platforms are a good fit for an otherwise marketing-unfriendly topic like law.
Speaker: Christian Solmecke, Partner WILDE BEUGER SOLMECKE
4:55 PM to 5:15 PM: State of Newsletter-Marketing: How to get the most out of your Email Campaigns in 2019
Email marketing has long been an unfashionable and underrated marketing channel. But in the past few years, it's undergone something of a resurgence. Co-founder and managing director of the Finc3 Group Bjoern Sjutfigures to be one of the biggest experts on the subject—and will therefore be on the Expo Deep Dive Stage at OMR19 presenting current tricks and hacks that are guaranteed to help you get the most from your email marketing.
Speaker: Bjoern Sjut, Co-Founder Finc3 Group
5:20 PM to 6:00 PM : Live-Podcast AWFNR
Host Joko Winterscheidt and photographer Paul Ripke have been best buds for a while now and talk constantly on the phone (Paul lives in LA). It was therefore a natural fit when the duo decided to start recording their podcast "Alle Wege führen nach Ruhm" (All roads lead to renown). Paul and Joko share stories that may or may not have been suitable for the broader public. At OMR they'll be recording a live podcast for your listening and laughing pleasure. In German.
Speaker: Joko Winterscheidt

Paul Ripke, Photographer
Still need a ticket to OMR19? Act fast—Get yours here!