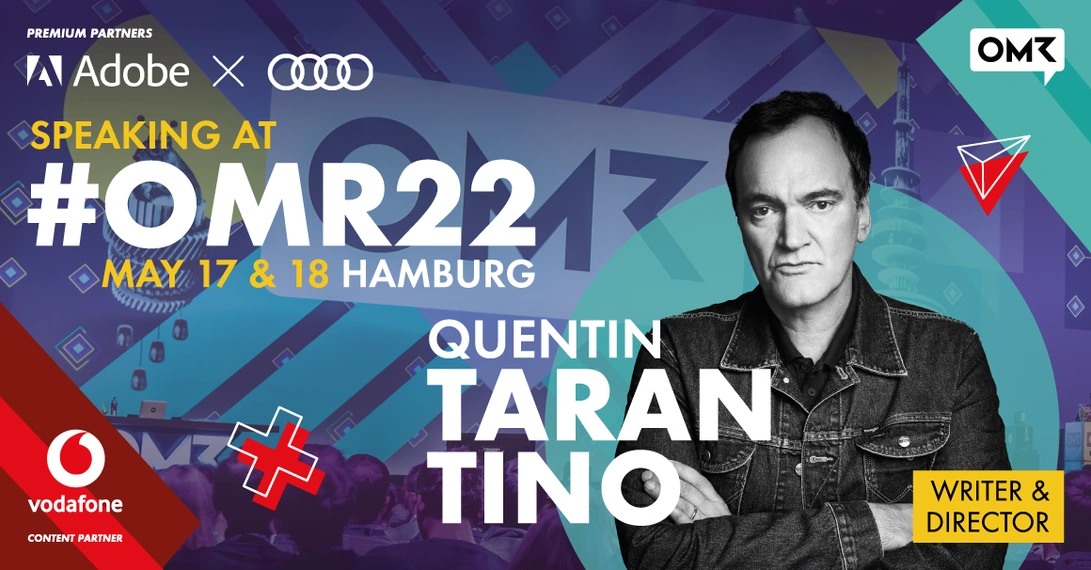 Hollywood royalty headlining the Conference Stage: Academy Award-winning writer-director Quentin Tarantino is coming to OMR22
After enduring two years of COVID-induced cancellations, the OMR Festival is set to return this May 17 & 18 with Quentin Tarantino, digital thought-leader Rutger Bregman and China expert Lillian Li headlining the Conference Stage. Read on to find out why Quentin Tarantino is coming to the OMR Festival and what else you can expect in Hamburg in May.
Three years after the last time we met, the OMR Festival will finally celebrate its comeback this May 17 & 18. We're expecting over 60,000 in attendance, over 800 speakers, more than 1000 exhibitors and partners in Hamburg, plus a host of top acts headlining the evening concerts. But first, let's start with what's staying the same: Expo, Conference, Masterclasses, Guided Tours and Side Events are just like you remember—where it's all about digital business. Now, what's new in 2022? Space, space and more space, for starters. For the first time in the history of the Festival, OMR22 is taking over the entire Hamburg Exhibition Center grounds. Today, we're just aiming to whet your proverbial appetite. We'll be announcing more top speakers in the coming weeks—that much we can promise you.
Quentin Tarantino headlines the Conference Stage
"Pulp Fiction," "Kill Bill," "Inglourious Basterds," "Django Unchained"—Quentin Tarantino has made some of Hollywood's most-prominent films. The two-time Oscar winner has an unmatched knack for storytelling on the silver screen. We can't wait to hear his take on storytelling and the impact of the new streaming ecosystem. Just as exciting for many of you, Tarantino is currently working on other projects pivoting him further into the digital space. According to The Verge, Tarantino is developing his first podcast, where he'll be going through and discussing his extensive collection of media, music and movies. He is considered one of the world's biggest music and movie nerds.
Furthermore, Tarantino is getting in on the hottest digital game on the planet: NFTs (Don't know what NFTs are? Here's the OMR primer). His first NFT collection features scans of the original screenplay for "Pulp Fiction," as well as audio commentary from the director. His insights on the topic figure to speak volumes on the future compatibility NFTs in the mainstream. Hollywood, streaming, podcasts, NFTs and storytelling—what more could you ask for? If you want to catch Quentin May 18 on the OMR Conference Stage, you'll need the "Festival Pass." You can get yours here.
Soak up Rutger Bregman's thoughts on capitalism
The OMR Festival is not just about star power, of course. Instead, OMR is all about giving you useful insights and inspiration. To make sure there's plenty of info in your tainment, we are thrilled to welcome Dutch author and historian Rutger Bregman. Does that name ring a bell? In 2019, Bregman's appearance at the World Economic Forum in Davos went viral. In a scathing rant, Bregman criticized billionaires—and there were many of those in attendance—for their repeated efforts to get out of paying taxes. Media outlets around the world ran the clip, with one excerpt notching over 8 million views. In the wake of the rant, he was an in-demand guest on talkshows around the world.
With his profile boosted, his two books, "Utopia for realists: The Case for a Universal Basic Income, Open Borders, and a 15-hour Workweek" and "Humankind: a Hopeful History" became international bestsellers. Just one look at the title of Bregman's books tells you all you need to know about where his focus lies: tax evasion, just distribution, new perspectives on work and freedom of movement for all. Simultaneously, he grapples with the feasibility of various future outcomes. If you think back to Yuval Noah Harari's appearance on stage at the OMR Festival 2019, you know just how memorable historians can be at OMR.  
Lillian Li explains Chinese tech trends
OMR is also synonymous with a look at the next big thing. As recent history has shown, many of the biggest future trends come from China. At the moment, there is no one better in our view than Lillian Li to explain what's going on in China in-depth. Born in China, she lived and studied in London before returning home and therefore is in a unique position to compare Western and Chinese views on tech. From her home in Shanghai, she pens the Substack newsletter "Chinese Characteristics," where she goes into extensive depths on tech trends and companies from the Far East. 
She caught our attention recently with her views on super apps and why Chinese companies are so determined to control the entire funnel, from awareness to fulfillment. On the OMR Conference stage, she'll share her thoughts on which strategies will soon be making their way to the West and how you can adapt them to your target audiences.
Do you want to catch Tarantino, Bregman and Li live on the OMR Conference Stage? Then you need to get your Festival Pass here for OMR22.