How Two 13-Year-Old Girls Built Germany's Most Successful Instagram Account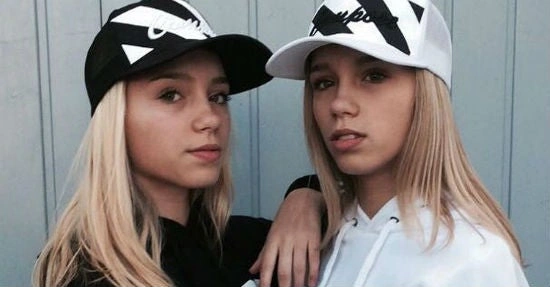 Lisa and Lena: two million fans in just four months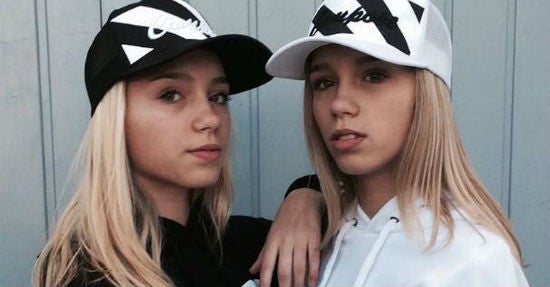 It's an unprecedented story of success. In less than four months, Lisa and Lena, 13-year-old twin sisters from the Stuttgart area, amassed approx. two million fans on Instagram and musical.ly, the music app beloved by teenagers. We took a closer look at their performance, before speaking to the girls, as well as their agent, and discovered there is much more than meets the eye.
"I've never seen an Instagram account grow that quickly," says Robert Levenhagen, founder and managing director at Influencer.db, a company offering software for analyzing the performance of Instagram accounts. Levenhagen frequently deals with "influencers," who have lots of fans and major reach on Instagram. The incredible growth that Lisa and Lena's profile has achieved has left a major impression on Levenhagen. In March 2016 alone, the number of followers exploded by 256% from around 112,000 to 377,000.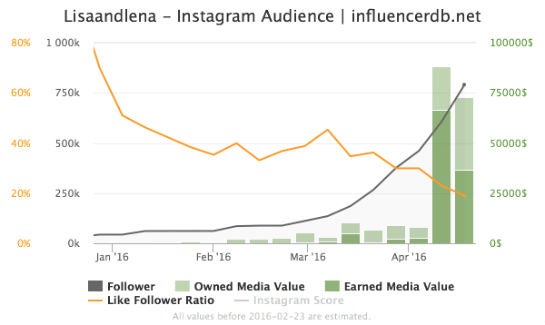 The account kept growing in April, too, more than doubling the number of followers. As of April 2016, Lisa and Lena have some 850,000 followers on Instagram. Initially, the account, which was first created in June 2015, had a relatively low number of followers. By the end of 2015, the twins worked their way up to 10,000 followers. Since the beginning of 2016, however, their reach on Instagram surged to more than three quarters of a million users.
Massive interaction rate
According to Levenhagen's estimates, the girls achieved the gaudy numbers without any artificial assistance. The like-follower ratio, i.e. the percentage of fans that actually interact with Lisa and Lena's account by liking or commenting on images, is currently at 24 percent—an incredibly high figure, Levenhagen says. "If you ask me, none of the followers have been bought."
In the past four weeks, the twin's account has undergone another growth spurt; currently growing at an average of 19K fans per day. At that rate, it would be a shock if the girls didn't land their millionth Instagram follower in the next couple of weeks.
The pair's favorite types of post are so-called "musicallys," which are usually short videos made with the musical.ly app where they both dance and lip-synch to well-known pop songs.
musical.ly brings the break through
"We always liked acting and singing," said Lisa and Lena (due to their age we do not wish to disclose their last name) in a written response to an interview request by Online Marketing Rockstars. Their dream, however, was always to have a role in a popular German kids show. "But then we discovered musical.ly and began shooting videos individually and together, and then posting them to our respective accounts." musical.ly is especially popular among teenagers, and has added millions of users around the world in the past few months alone; the app continues to grow in popularity in Germany, as well.
Currently, Lisa and Lena are the most-popular Germans on musical.ly and with even more fans there than they do on Instagram; their musical.ly profile currently lists their followers at one million. Both platforms taken together, the pair reaches 1.85 million users at present. Despite the fact that there is surely a significant amount of overlap between the two platforms, there is strong evidence to suggest that Lisa and Lena reach well over a million fans through their digital platforms.
That means, in spite of never having been represented in standard media channels, the pair has reached a level of popularity rivalling that of "traditional stars." Their sheer popularity may surprise many non-teens at first glance: there are fan-made drawings and collages posted on Instagram, and Lisa and Lena have their own line of clothing—more on that later.

The man behind the scenes
How did it all come together? What's the reason for their success? Was it just a fortuitous confluence of random events? There are several factors for Lisa and Lena's success. First off, there is no doubt that the photogenic teens have the "IT" factor and know how to present themselves. The duo spent their free time taking hip-hop dance classes, which explains the seemingly effortless choreography in their videos. The pair was also in the right "place" at the right time: musical.ly is currently trending among teenagers and Lisa and Lena know how to make the most of the app's options. Upon taking a closer look at their account, however, it becomes apparent that their reach was not amassed by chance—at least not entirely.
When we first spoke to Lisa and Lena's mother over the phone about conducting an interview with the girls, she immediately put us in touch with their agent. Oliver Stefanovic is partner and managing director at OCFM GmbH. In Lisa and Lena's Instagram profile, there is also an address for OCFM listed for contact inquiries. When we spoke to Stefanovic, he told us that he first came in contact with Lisa and Lena through their mother, who is personal acquaintance.
Experienced online trader in charge of marketing
The 39 year old is primarily involved in online trading, and says he has been for many years. "I was buying things online back when Alando was around," Stefanovic told us on the phone. (Alando was an online auction house launched in March of 1999. Three months later they sold it to US archetype eBay). Stefanovic said that he's been running brand shops on several e-commerce platforms; and was or still is active on Amazon, eBay and Zalando.
In the meantime, Stefanovic also builds brands. One of those is Compose Clothing—the aforementioned label that Lisa and Lena popularized. The brand name contains wordplay as on the one hand, compose (i.e. a composer) contains a musical component, while "compose" also means create as in "create your outfit." Furthermore, the online shop sells hoodies and sweatshirts with "Com' Pose with me" emblazoned on the front.
The shop offering is now rather large as well: in addition to 17 current sweatshirts ranging between €40 and €50, 15 different caps and beanies available from €20 to €25, 13 different shirts for €25 apiece and four jacket types for €60. The site imprint lists OCFM GmbH as sole operator; apparently Stefanovic has an army of sewing machines at his disposal. We found two sites  online using an OCFM e-mail address that offer textile finishing services. He presumably purchased the textiles from white label textile manufacturers before reselling them under Compose Clothing and other names.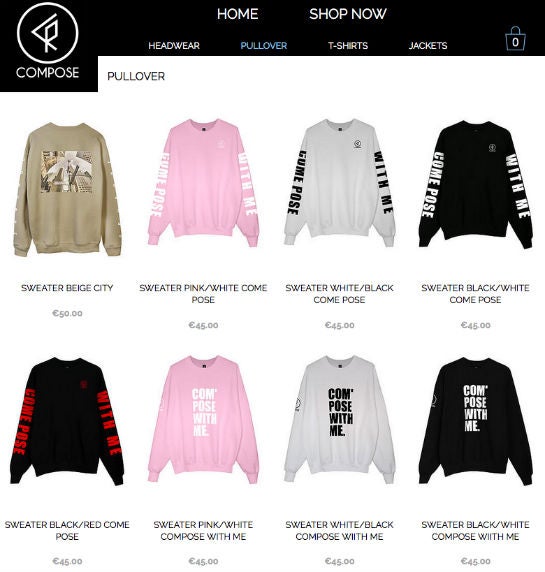 The potential that Compose Clothing has can be seen in a short, but fictitious calculation: assuming that some 1.3 million fans have come in contact with the brand (Compose Clothing is directly linked to Lisa and Lena's Instagram profile; their musical.ly profile is linked to their Instagram account), and that 400,000 of the 1.3 million have visited the online shop in the past four months, and if you assume, conservatively, that of these visitors only 1% purchased something—that would put OCFM's average shopping cart value at €35. And that would mean that within just a few months the label would generate a revenue of €140,000. The profit margin for fashion alone would be somewhere in the upper double-digit percent range.
Lip-synched videos doubling as a catwalk
Shoppers of Compose Clothing are most probably young fans, who know about Lisa and Lena from Instagram and musical.ly—in their videos they almost always wear Compose Clothing items. For at least the past year, Stefanovic has been experimenting with growing the brand via other influential Instagram accounts. In 2015, he worked ostensibly with Sandra Lambeck, who starred in the hit German TV show "Berlin Tag & Nacht" (Berlin Night & Day) until 2014  and currently has 382,000 followers on Instagram. The pair also evidently launched the "Dray" brand together, with Stefanovic as the proprietor of the drayapparel.com, draybrand.com and lambecksandra.com domains. The brand has since been shut down and the sites are offline. The final remnants of the partnership can be seen on Instagram via images of Lambeck in Dray apparel, as well as an abandoned brand account.
OCFM behind three of the fastest-growing Instagram accounts
Today, Stefanovic seems to be focused on building brands via various models and Instagram influencers—and successfully, too, at least as far as reach is concerned. On three of the fastest-growing German Instagram accounts in March, there was either an OCFM e-mail address or links to shops, where OCFM is listed in the site's imprint. In addition to Lisa and Lena, the OCFM portfolio includes German celeb Gina-Lorena Mastrolorito and her Instagram account "ginizzle," which currently has 622,000 followers (UPDATE: since this article originally ran, Mastrolorito has apparently stopped the partnership with OCFM as the OCFM e-mail address is no longer listed in her profile). OCFM also works with fellow German celeb Kim-Nhi Duong, whose "blvckd0pe" account currently has 488,000 followers.
Until recently, a third German celeb Angelina Stebich (account name "aangeliinaxoxo," 197,000 current followers) collaborated with OCFM, but the OCFM address in her account has since been deleted; her established fashion brand "Beyond" that was at the center of the collaboration with OCFM has been shut down. Online Marketing Rockstars contacted Stebich via Instagram and she said "there were disputes with the manufacturer." She is planning on launching her new brand "Be Aware" very soon.
The same that applied to Lisa and Lena goes for Stebich, as well. Stefanovic ostensibly builds or built for the aforementioned influencers his own brand through online shops and Instagram accounts. "Ginizzle" promotes the "decode" label (Online-Shop / Instagram – (UPDATE: Both the website and the online shop are now offline)) and "blvckd0pe" stands for the brand "Blackdope" (online shop / Instagram)  / Instagram). The domains to the online shops are listed under Stefanovic's name.
The imprint for the "Blackdope" online shop lists "Blackdope UG" and Kim-Nhi Duong as operators. The e-mail address, however, uses the ocfm.de domain. Before Lisa and Lena's tidal wave of success, "Blackdope" was the most successful or most important brand in OCFM's portfolio. In their first video, Lisa and Lena, too, can be seen wearing "Blackdope" brand clothing.
Big-time US influencers rock OCFM brands
Stefanovic shows no signs of resting on his laurels, establishing contacts to famous American digital stars that now promote "Blackdope." On the Instagram account "United Blogger" [Update: the account has since been deleted], which Stefanovic is in charge of, and where he refers to himself as "Brandbuilder," he posts images of US celebs wearing "Blackdope" apparel. That list includes US model and Stephen Baldwin's daughter Hailey Baldwin (5.3 million Instagram followers), singer and Justin Bieber protégé Madison Beer (4.5 million Instagram followers), fitness model and Justin Bieber-ex Yovanna Ventura (3.7 million Instagram followers), YouTube and Vine star Carter Reynolds (3.1 million Instagram followers) and rapper Bow Wow (2.8 million Instagram followers).
Stefanovic told Online Marketing Rockstars in a phone interview that his company employs 20 individuals, and that they had to change offices to accommodate the increase. He also said that eight people work exclusively for Compose Clothing.
Lisa and Lena seem to be a special case for OCFM—simply because of their link to musical.ly. A longer look at the activities on both platforms leads to the conclusion that the success was systematically achieved. The sisters initially had their own musical.ly accounts, both of which are either inactive or have been deleted as new videos exclusively appear on the new profile. A total of 54 "musicallys" have been posted and the girls started wearing Composed clothing in their fifteenth.
In our interview with the girls that Stefanovic mediated, the girls stated that their success can be traced back to their hard work. "We saw our number of fans grow every time we posted a video or a pic. So we decided to post more and post regularly." Today, the girls plan their video schedule in advance, make appointments where they both have time and are constantly on the lookout for new sources of inspiration. "At first, we made videos whenever we both felt like it, now we are determined to post several videos a week. We also keep an eye on which of our videos perform well."
One video. One month. 1.5 million views.
They are both especially proud of their "mirror" video, which starts off giving you the impression that one of the girls is in front of a mirror. After a few seconds, the reflection starts moving on its own for a "wow" effect. The clip has been viewed on Instagram a whopping 1.53 million times, garnering 184,000 likes.

Originality, too, is a reason for their success, which probably also led to musical.ly recommending the duo very early on—also beginning with video number 15. Videos that musical.ly recommends appear on the app's home screen when users open the app. Lisa and Lena have been featured a total of eight times thus far—one more factor that help the girls build their reach. The official Instagram account with its 3.7 million followers has posted two videos by Lisa and Lena so far.
The twins have also proven to be very astute at using the possibilities the app offers to generate awareness. For example, the app operators hold regular challenges, where users are to perform to a certain song. The most popular videos are then featured in the best-of list during the challenge. Users that land a top ranking get added publicity. Lisa and Lena have been featured during numerous challenges and recently dropped down to second place in the current challenge after holding the top spot.
Raffles to increase your reach
A few tricks worked on Instagram, as well, to increase Lena and Lisa's reach and popularity—clues to which can be found by looking at which images the girls were tagged by other Instagram profiles. For example, Lisa and Lena are tagged on many images with #llcompetition. Instagram has a total of 4300 posts with the hashtag. This gives the impression that as part of a raffle users were called on to share a certain image (of the girls in Composed clothing or of individual items), to link their account and to state which article of clothing they'd want to win. We could not, however, find a post that started the call for action, leading us to believe it has since been deleted. OCFM has used raffles in the past, with the Dray brand. The official Dray brand account is tagged on several images with the hashtag #draycompetition.
Furthermore, via hashtags and tag we found our way to numerous Lisa and Lena fan accounts. Lena's (previously) official musical.ly account is linked to an Instagram account that lists the account as a fan account in the profile description. It is impossible to tell who is behind the numerous fan accounts; not all of them have a profile pic, and most of them simply post pics of the girls or of Compose outfits.
Community interaction fuels engagement
On top of it all, Lisa and Lena, as well as the Compose account, interact strongly with their fans. They like and comment on their posts, fan pages operators proudly announce in their profile description how times the "official accounts" have reacted to their posts, posting screenshots en masse of Instagram messages that the twins or composed liked or commented on their posts. On the one hand, this leads to a competition for the attention of the girls, which leads to more posts and creates even more attention. On the other, the practice probably leads to first contact with the account for many young Instagram, because their friends share the corresponding posts.
In the written interview we received from Stefanovic, the girls closed by saying "we initially started interacting with musical.ly and Instagram as a hobby. But we always wanted to become famous and to be on TV. Now we are thrilled that our Instagram popularity led to our own line of clothes. We eagerly await the new paths that we will come across."