With more people flying than ever, startups, like Ersatz-Pilot, Rightnow and Flightright are taking off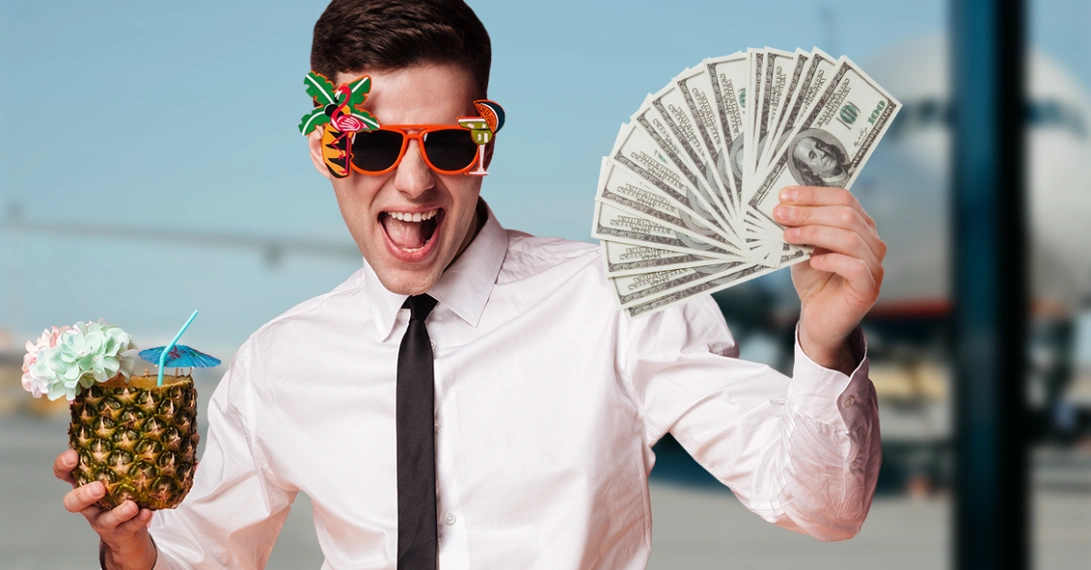 The business model is not new: For years, companies have been advocating for air passenger rights. In the event of severe delays or cancellations, travelers are entitled to a refund of at least a portion of their money. For enforcing these claims, legal tech companies receive a commission. Ersatz-Pilot.de from the outskirts of Hamburg now seems to have found an unfilled niche in this highly competitive marke. Plus, thanks to to clever content marketing, ranks first in Google's search results for some very significant keywords—ahead of the airline Ryanair. OMR spoke to the founders.
"If you compare us to Flightright or Rightnow, we are of course smaller," says Julian Voss in an interview with OMR. "But they also do it with 100 employees in some cases. They probably wouldn't have been able to do what we do today with just two or three people, either—which is how we've done it." Together with Christopher Wekel, Voss put Ersatz Pilot online in 2017. Until the end of 2021, the project was a side hustle for the two college friends.
"We've known each other for eleven years now and were working students together at a law firm," Julian Voss says. Christopher Wekel had a legal focus, while Voss worked as a business IT specialist. And both of them had always dreamed a little about what technical possibilities there might be in the legal field. According to Wekel, Germany is still lagging behind in terms of digitization in this area in particular. 
Side hustle turns main gig
So in 2016, the duo starts dipping their toes in the instant compensation game. Even back then, the idea was no longer new. Pioneer Flightright had already been on the market for six years and had long since established itself. "That's when we asked ourselves if we couldn't do the same," Julian Voss recounts. "And subsequently, while working as student trainees, started building a solution."
Today, the friends' decision to work in a market that has already been tapped and continues to be competitive has paid off all due to the fact that as more and more people are flying, the demand is massive. Checking claims is quite simple: they work with lump-sum amounts and know roughly what can really be enforced. What's more, their backgrounds would already have both of them covering two big, important areas for their project. "Julian can code, while I handle the legal aspects. We divide the commercial part between us. It just made sense," says Christopher Wekel.
A golden age of airfare refunds?
The raison d'être for legal tech services that defend the rights of air travelers stems from two circumstances which are not showing signs of changing any time soon. Assuming a plane ticket costs 200 EUR, no one really wants to go to the effort of suing for such a small amount. At the same time, however, hardly any airline pays voluntarily.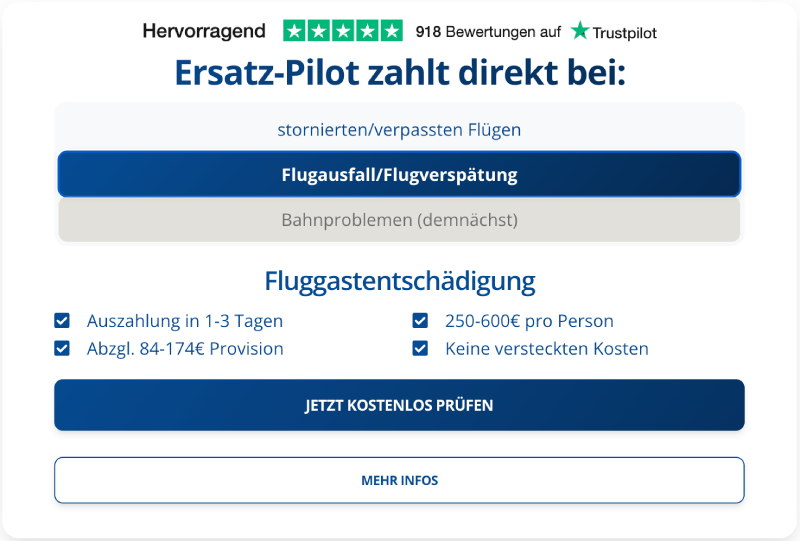 "Airlines know that not all passengers make use of their rights. Because they simply don't know what they are entitled to," explains Julian Voss. In his view, the calculation is simple: if only some of the passengers claim compensation or refunds and these have to be paid, it is still clearly more favorable for the airlines than if they communicate transparently and suddenly every passenger make use of their claim. "Every unclaimed refund is cash for an airline," says Voss.
How the Ersatz-Pilot business model works
Currently, the young legal tech startup offers two products. "We started with immediate compensation of lump sums, so-called 'lumpsum compensations.' These are 250 to 600 euros per passenger," explains Christopher Wekel. "If we aggregate over everything, we end up with about 410 euros as a nominal amount. And we then pay out about 70 percent on average, depending on the route. So about 30 percent in commission stays with us."
He said that during the pandemic a new product was then added with ticket refunds. In contrast to compensation figures, when flights are delayed or canceled completely, where there is no force majeure, i.e. severe weather, strikes, etc., where the primarily issue is that passengers have not been able to make their flight. Whether due to their own delay, illness or simply a cancellation of the planned trip, passengers can also claim money back here.
"If you do not take a flight yourself or cancel it, you are not entitled to a refund of the full fare, but you are entitled to a refund of taxes and fees, the ancillary costs of the flight," explains Christopher Wekel. These would also only be incurred by the airline if you actually fly with them. "German case law clearly states that in such cases these ancillary costs must be reimbursed. It's just that hardly anyone knows that. And that's exactly what the airlines are counting on," Wekel continues.
Ticket refunds: The penny stocks for legal tech startups
The commission that Ersatz-Pilot retains on the new ticket refund product is even lower, up to a maximum of 20 percent, than on flight cancellations or delays. However, since only the ancillary costs are involved here, the amounts are also significantly lower overall. "For each flight from Germany, it's about 30 euros per person on average," says Christopher Wekel. In the meantime, he says, this product is responsible for a large part of the company's sales. And that's also because, according to the founders, they are currently the only provider in Germany. Rightnow, for example, has currently paused its service, stating on its website that "high demand and various complications in the flight industry lead to delays in processing. Unfortunately, this means we can no longer meet our service standards."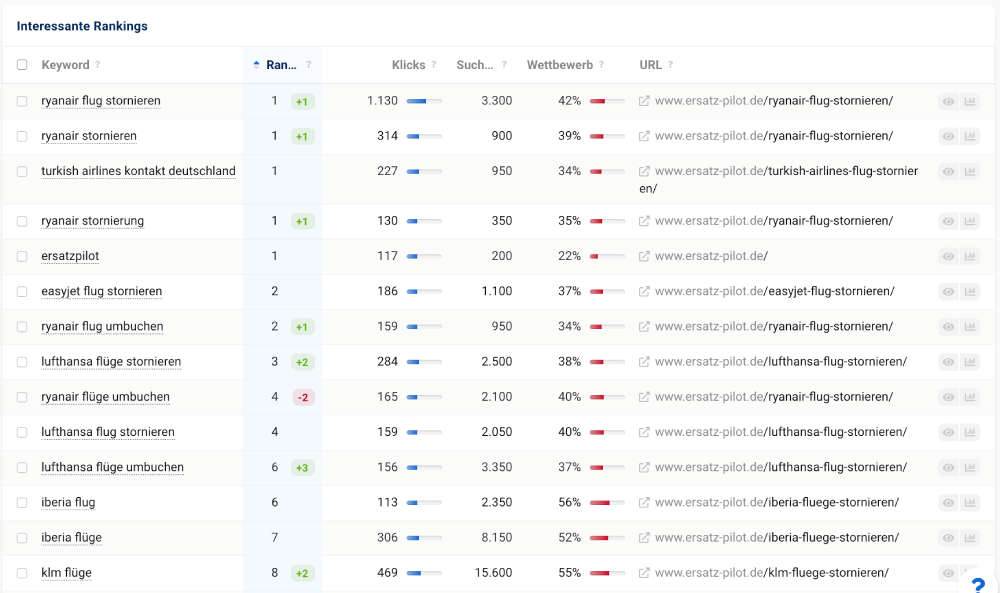 But how can a company with comparatively low commissions on small amounts build what it claims is a profitable business model? According to Julian Voss, this only works with the automation of many processes. "This is possible, for example, through causal relationships legally, but of course technically as well," says the founder. "That's our asset: We keep optimizing technically, and as a result have fewer posts to process individual cases more and more automatically." In the background, various databases would be used to immediately calculate the amount of saved taxes and fees and thus also refund claims for each flight.
Content marketing takes them to number 1 on Google
And there's another lever that helps enable the low margins: content marketing. "We couldn't afford to buy customers through performance marketing at all. That's why we look for cheaper alternatives," reveals Christopher Wekel. This, he says, is also the reason for slower growth than with the partly highly financed competition, but then also ensures in part presumably quite worthwhile placement in Google's search results list.
For the important keywords "ryanair flug cancel," "ryanair cancel" and "ryanair cancellation," Ersatz-Pilot currently ranks first—ahead of its competitors and Ryanair itself. Ersatz-Pilot ranks in the top three on corresponding keyword combinations to other airlines such as Lufthansa and Ryanair rival Easyjet. "SEO is definitely the primary channel. We acquire at least 80 percent of our new customers via SEO," says Christopher Wekel. Accordingly, it has a positive effect when keywords such as Ryanair move from second to first place. Especially since Ryanair is currently the airline that handles the most cases, followed by other low-cost airlines such as Wizz and Easyjet.
Growth and the product pipe
Ersatz-Pilot plans to process 10,000 claims this year, with fewer than ten employees (converted into full-time positions), consisting primarily of student trainees. The young startup declined to provide specifics regarding revenue. However, the reimbursement product is expected to account for the majority of sales. Due to the low margin on low amounts, it is reasonable to assume that Ersatz-Pilot is in the low to mid six-figure revenue range.
"I estimate that we currently cover only one percent of this market volume. The growth potential is gigantic," says Christopher Wekel. Over the next three to five years, the startup plans a tenfold increase. Among other things, the next product, which will probably be launched in the fall, should help them chug along towards this goal: compensation for train delays and refunds for unused train tickets. "The structure and claim is the same. That means we will be able to educate people here as well," says Julian Voss. Until then, the two founders are not putting any pressure on themselves. "We are happy to be underestimated," says Voss.